The situation is strange. Last winter there were record high amounts of water in our reservoirs. And since the end of May, there has been basically no increase.
Norden = Scandinavia, Sverige = Sweden
December 31st, Ringhals shut one reactor off (Ringhals 1), and shut another off August 30th (Ringhals 2). Which only leaves two active reactors left on that power plant.
In addition, Europe now has record high CO2 futures prices. Basically double compared to the past two years.
I read that the natural gas prices are at record levels in Europe. But I believe you will be more familiar with that market than I am.
*my source for the images is a report from Sweden´s Energy Inspection office*
__________________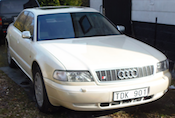 Johannes
_________
Audi S8 -99, Pearlescent, Alcantara/silk napa leather, Burr walnut insert, Alcantara roof lining upper pack
A8 32V engine
-----
Jeep Grand Cherokee -98