James Bond Could Soon Be Driving An Electric Aston Martin
---
http://www.huffingtonpost.co.uk/2015...n_8009710.html
Sounds like the EV sector is about to get interesting over the next few years, as manufacturers scramble to compete with Tesla.
Quote:
In response to Tesla's new 'Ludicrous Mode' which gives the Model S P85D a 0-60 of 2.8 seconds Palmer did not mince his words.

"We don't do Ludicrous because Ludicrous speed is stupid,"

Ouch.

He goes on to say, "I think that the fact that you could drive a few laps of a decent race course or race it around the Nordschleife [famed track in Germany] is much more interesting than doing 500 meters in Ludicrous mode."
Read as: "Sh1t, that Tesla's good! ... What can we do to better it!?"
__________________
Mark
------------------------------------------------------
2002 FE S8 Ebony Black Pearl
------------------------------------------------------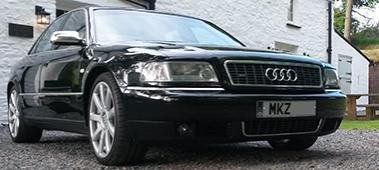 ------------------------------------------------------
Cars Owned:
The Audi Era:
'97 A8 4.2 (Ming Blue)
-->
'96 A8 4.2 QS (Dark Green)
-->
'02 FE S8 (present)
The Citroen Era:
'84
BX
1.6 RS
-->
'89
BX
1.9 DTR Turbo
-->
'94
XM
2.0L Turbo
-->
'96
XM
2.0L Turbo Exclusive
-->
'00
Xantia Activa
2.0L Turbo
The Banger Era:
'76 1.2L
Lada VAZ-2101
(Ruski Fiat 124)
-->
'80 1.7L
Morris Ital
HL, finished in Ermine White and Rust