Here is a diagram of the rear axle, with the 'track rod' number highlighted (10).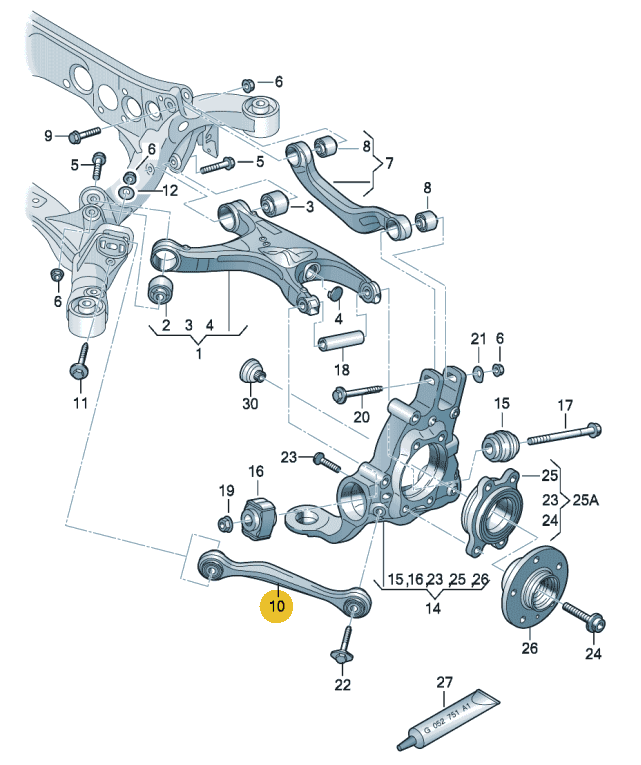 The part number is 8K0501529L and both left and right are the same. The price in ETKA (mine anyway) shows a price of £53.40. With that in mind, and the price you've been quoted, I'm wondering if your description and the ETKA description are misleading somehow.
I've also attached a couple of screenshots showing the part numbers for everything else on the rear axle.
Another resource that you might want to investigate is the following site:
https://audi.7zap.com/en/rdw/
It is essentially an online version of ETKA, and you can see the same sort of exploded diagrams that ETKA uses.
Finally, I'd suggest that you add a signature line to your account with your car details in it, so that anyone wishing to help can see immediately what sort of car you have (e.g. year, engine size, fuel), as parts can be different depending on certain aspects.
__________________
2001 A8 D2 FL 3.7 Q
- LPG Conversion, Engine: AKC, Gearbox:FBB, Colour:LY5X Aqua Blue pearl effect, Interior:WJ light beige/dark beige valcona leather with burr walnut inserts
My DIY jobs
-
Replaced alarm horn
,
Replaced Coolant Temp sensor
,
Updated RNS-D firmware
,
Installed Reversing Camera and Digital TV
,
Dashcam Installation
,
Retrofitted Rear Blinds
,
Auto-Dimming Rear View Mirror
,
Chrome Boot Struts
2008 S8 D3 5.2 V10
- Engine: BSM, Gearbox:KLW, Colour:LY7F Suzuka Grey Pearl Effect, Interior:Black/Black with Silver/Black valcona leather with carbon atlas inserts, Bang & Olufsen, Heated windscreen, Soft-close doors, TV, DAB, AMI, Quad Zone, Auto Boot, Auto dim Mirrors, Keyless entry, PDC with rearview camera, AFS II Headlights
My DIY jobs
-
Fan Jet Windscreen Washers
,
Retrofitted Electric Side Blinds