I spotted this on the Audi Owners Group UK Facebook page and wondered if any of the employees of Prestige Motor Services (A8 Parts) had just treated themselves to a new motor

Maria? Katie?
I like the hearts instead of the Audi rings. Not to my taste but I like a bit of customising in the right place.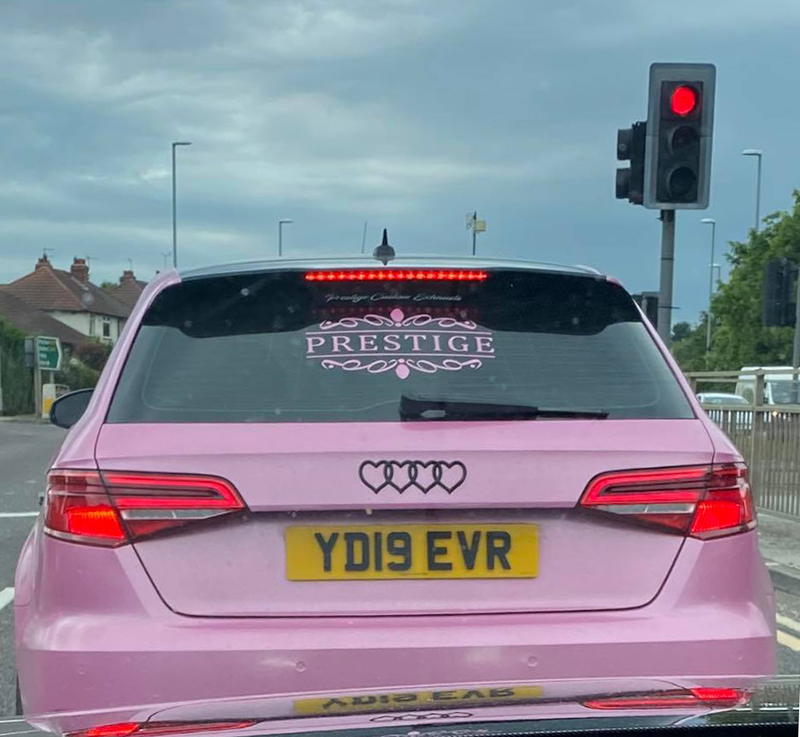 __________________
Dean
Future work for 2020: Ski hatch, radio-controlled clock, interior and exterior dimming mirrors, Alcantara headlining, rear US outer lights, passenger memory seat, rear electric (lumbar and headrest) heated seats, solar sunroof, Servotronic.
__________________
Current:
2002 A8 D2 S8 FE
-
"Red Dwarf"
- Misano Red - Platinum Interior, PDC, Sat Nav Plus with BOSE and hidden Dension Bluetooth, Multi-changer, Heated Front Seats, Bi-Xenons, FE Wheels, Phone Prep with Nokia 6210, Detachable Towbar, Rear Blinds, S8 plate but no other optional extras
1st Place Winner - A8Parts Annual UK Meet 2018
1st Place Winner - A8-Freunde Annual German Meet 2018
2nd Place Winner - A8-Freunde Annual German Meet 2019
2007 A6 Allroad C6 3.0TDI Quattro
- Highland Green (Audi Exclusive Colour) - Cream leather interior with Wood, Advanced MMI, Keyless, Bose, Advanced PDC, Sunroof, Heated Memory Seats, Adaptive Xenons, Adaptive Air Suspension, Servotronic
Previous (went to good homes):
2002 A8 D2 2.8 Quattro Sport
-
"Big Red"
- Tornado Red (Special Order) - Twist Interior, PDC, Passenger Memory Seats, Symphony II with BOSE, Heated Front Seats, Bi-Xenons, Auto-dimming Mirrors, 20" FE Wheels, Servotronic Steering
2002 A8 D2 2.8 Quattro Sport
- Aqua Blue Pearl - Twist Interior, PDC, Sat Nav Plus with BOSE, Multi-changer, Heated Front Seats, Bi-Xenons, Auto-dimming Mirrors, Avus Wheels