C5 Allroad FE RNSe problem
---
At the end of their time, the C5 Allroad got and RNSe head unit. Mine is not working in the car but works fine on the bench. When plugged into the cat nothing. When on the bench if I put 12v across pins 12 (KL. 31) and 15 (KL. 30) on plug D, on it comes. I've tried a known good unit in there and I'd had the same result.
There is 12v on the plug.
I think there must be something stopping it coming on from one of the 4 plugs in the group. Maybe a voltage that is there that shouldn't be?
Any help greatly appreciated.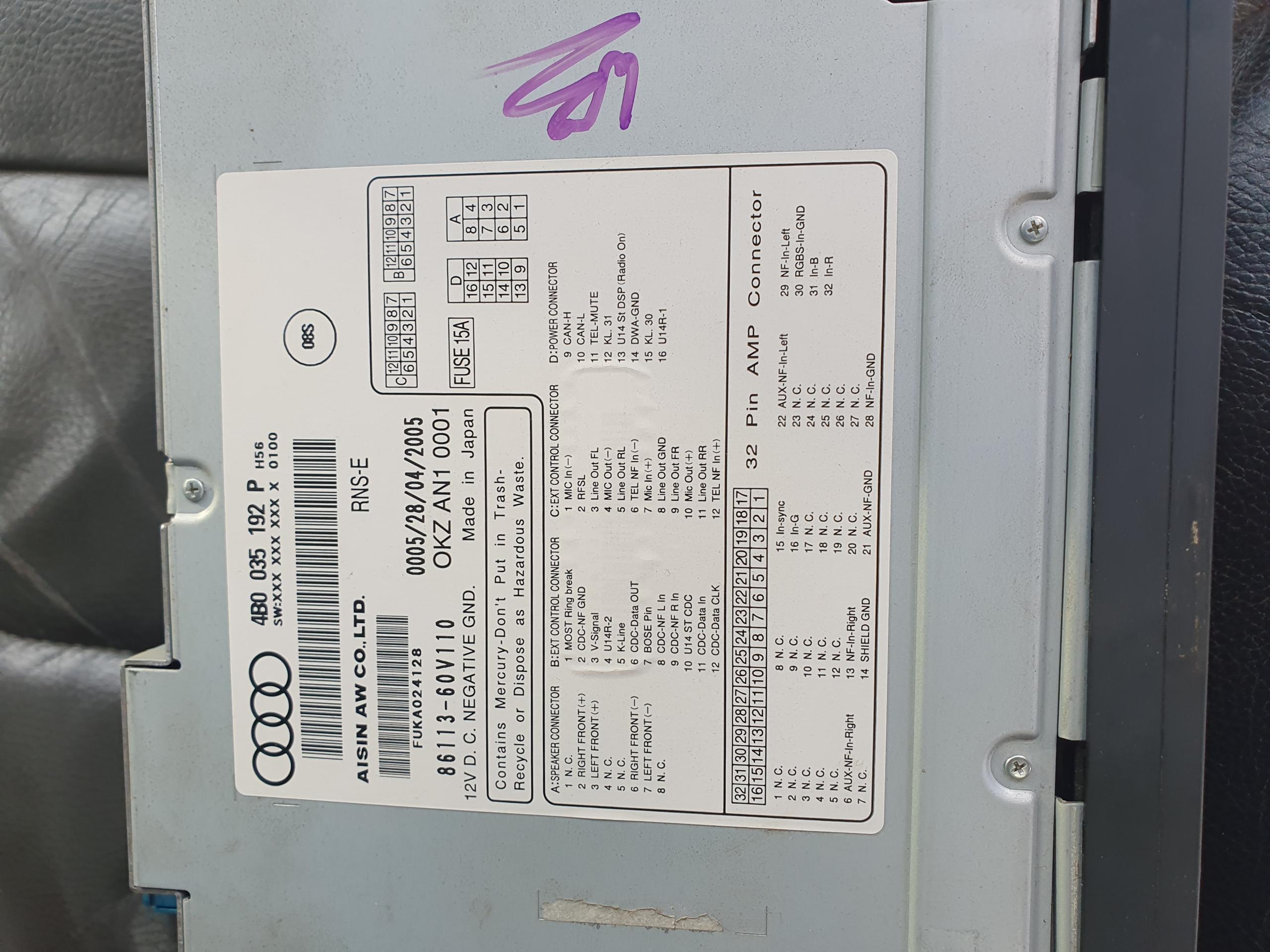 __________________
Conan (the Librarian)
Watch it if you dare
Currently,
2000 S8, Merlin Purple, Leather Pack 1, Winter Pack 1, SPAX adjustable suspension, AP Racing 6 pot front caliper, 385mm fully floating disks, EBC Yellow Stuff Pads, Black Diamond grooved rear disks and predetor pads, D2 Doctors Brake Block.
1997 4.2 A8SQ - the Projekt. 12 years and ongoing!
1997 4.2 A8SQ - Ming Blue. Restoration sat waiting; saved from the Scrapyard
2003 C5 Allroad 4.2Q - Cobolt Blue. Towing car. Laid up awaiting replacement cats and Torque Converter.
2015 Q3QS SLine - Daytona Grey. Lots of extras! Long Haired Admirals cutter.
Previously
2003 C5 A6 1.9TDI FWD - Loaner from
D2 Doctor
Lifex
1997 S8 - Ming Blue. Loaned out and written off. I loved that car. My first engine swap after cambelt failure.
1996 4.2 A8SQ - Ming Blue. 178k on a cambelt! Trader's 8. Delivered to A8Parts at Lifex.
2003 2.8 A8SQ - powder blueish. Fill in for a while. Sold on.
1998 1.8T A4 Avant FWD. Ming Blue (there's a theme here), PEX for the 97 S8.
And a list of non VAG going back 40 years before I saw the light.

---
Last edited by Conan_the_Librarian; 10th November 2023 at

04:32 PM

.