Replacing D3 B&O Dashboard Speakers
---
My problem was the little-known-about center speaker that hides at the back center of the dashboard, but replacing didnt turn out to be too hard. Replacing the two pop up tweeters is even easier, although more expensive
So, through a process of acoustic fault finding, I concluded it was the center dash at fault and got a brand new ordered up through a8parts before I went any further. Less that £100 later and I have a genuine brand new Danish bit of B&O arrive, although its size was less impressive. Its tiny !!
The Center dash speaker lives under here. There is one for Bose too.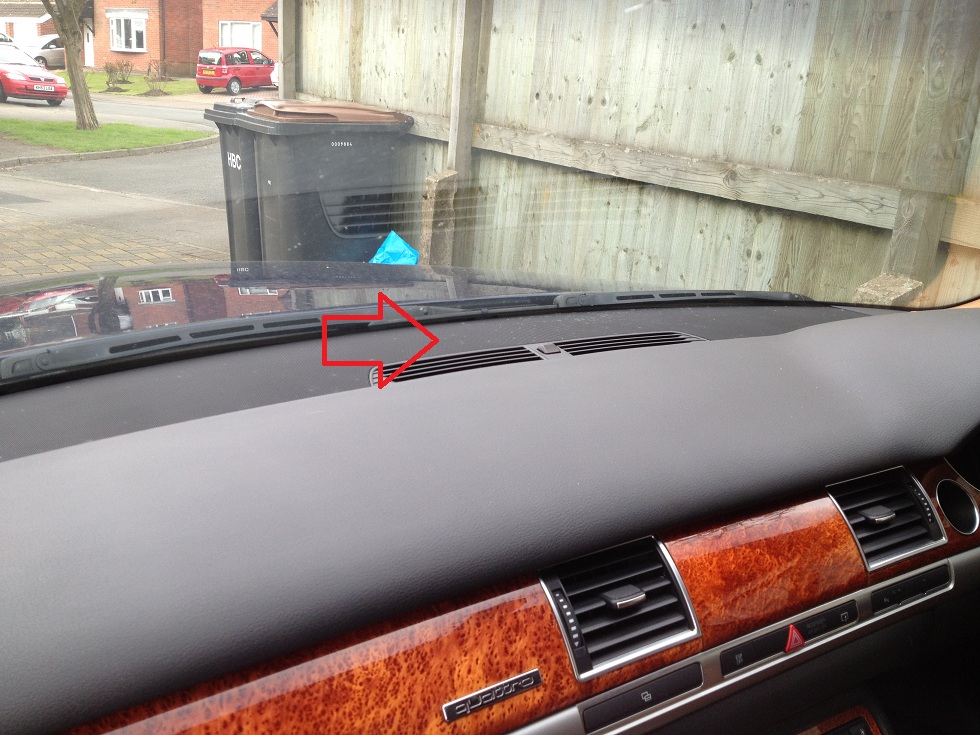 First job is to pop off this cover that holds the phototransistors for the Climate control. A radio removal key was the perfect thickness just to slip in and pop it out
The photosensor pulls out easily, and you can see there is now a small torx screw that must be removed - T10 size - and there is a big void just behind it. Drop it, and its lost forever I guess. Worst still, it might rattle down there so be careful.
Once removed, the black ventilation grill can easily be prised up. The dash is nice and soft and wont mark easily so you can lever against it.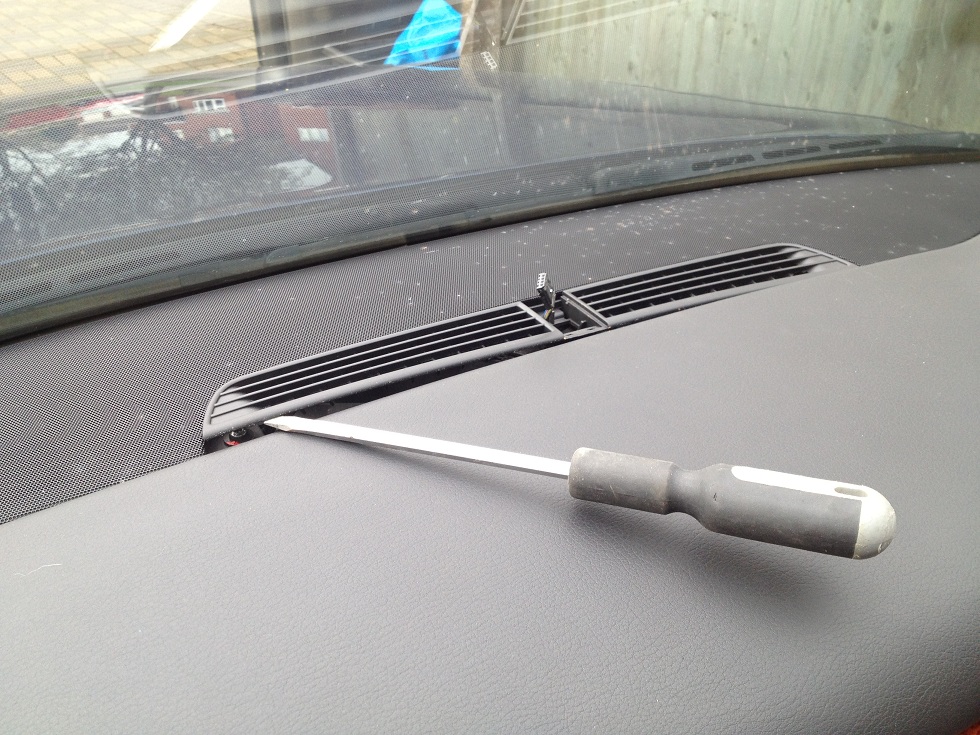 Two more Torx - These hold the whole mesh in place. Remove them both
Then, we remove the two B&O tweeter covers. They just pop off with gentle prising. You can see here that to replace these tweeters is litterally just a case of popping off the plastic cover, and 2 torx. Couldnt be easier. I dont need to remove them though, so remove both covers only:
Now, we can lever out out the mesh. Its not quite as fragile as it looks, its on a sturdy plastic frame, but still we go steady. Lever it up vertically at the front nearest to you:
and then it will slide backwards towards you. You can see the clip (arrowed) that holds it down. There are 4 of them evenly spaced across the dasboard.
and then voila - one speaker fully accessible by two torx:
Tight squeeze with the windscreen though, so you'll need a ratchet to get in low down: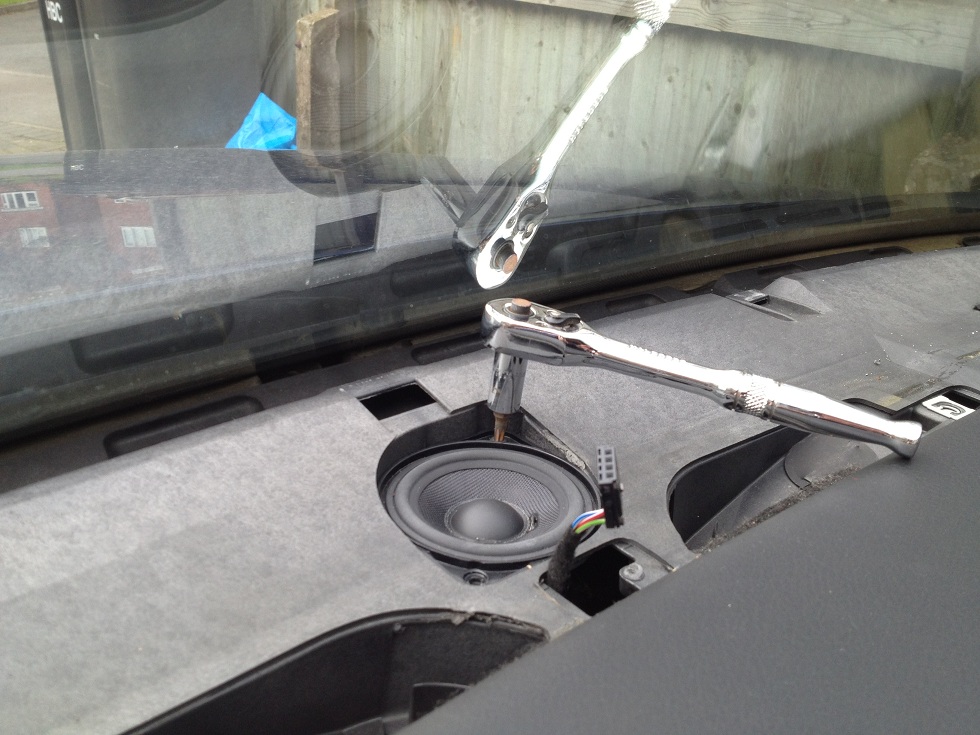 And here is old, next to new. I firstly disconnect the center speaker altogether, which immediately stopped the fluffy horrible noise I'd been suffering. There was no visible damage to it, but by removing it I certainly fixed my issue. With the new one in, it sounds 100% again
Quick test.....
And, reinstallation is the opposite of removal.
In my case though, I'd got a Black mesh with lots of marks on it. I dont really see how they were caused, but they are like imperfections, rather than dirt, and cleaning it just make the imperfections stand out more...

So, rather than replace the original mesh, I decided to fit a replacement one. See my next posting regarding that if interested.
__________________
For parts enquiries
and
Forum User Administration
please contact customer services directly, not me
-
enquiry@a8parts.co.uk
,
www.a8parts.co.uk
,
or call
01642 783537
The Family Wagon -
2018 Tesla Model X. Black, 7 Seats, Towbar, Homelink, Enhanced Auto pilot with Summon and self park, Heated front seats, CCS Charger upgrade, MCU2 Upgrade, Falconwing Doors, Self opening / closing doors, Netflix, Spotify, toys, Air suspension, alcantara roof + lots of other stuff......
The 17 year old Driver Wagon
2015 Skoda Citigo Monte Carlo. Alloys, Power steering, Aircon, Leccy windows, Sat Nav, bluetooth, central locking, cup holders, 59 whole bhp. Million times better than my first car. Well jealous.....
The First 20 Audis:
2001 D2 4.2 QS Silver, 1997 D2 S8 Silver, 1999 D2 4.2 Silver, 2002 D2 S8 Dolphin Grey,
2003 C5 RS6 Blue, 1998 D2 S8 Black, 2000 D2 4.2 QS/S8 Ming Blue, 2003 D3 4.2 Ming Blue,
2005 B7 S4 Blue, 2006 D3 3.0 Tdi Black, 1999 D2 4.2 Silver, 2003 D3 4.2 LPG Crystal Blue,
2000 D2 S8 Silver, 2007 3.0 Tdi Q7 Black, 2009 B8 S4 Black, 1998 D2 S8 Agate Grey,
2006 D3 4.2 Tdi Blue, 2006 D3 S8, 2007 Q7 3.0 Tdi, 2006 C6 S6,
The Second 20 Audis:
2011 A7 Sline, 2001 A2 1.4 Tdi Black, 2002 A2 1.4 Tdi Silver, 2006 A8 4.2 Tdi Blue,
2007 4.2 Tdi Q7, 2006 S4 Cab Silver, 2010 RS6 Saloon Black
, 2007 TT Roadster,
2010 A8 D4 4.2 Silver, 2006 C6 A6 2.7 Tdi Quattro, 2000 D2 4.2 QS/S8 Ming Blue (again), 2008 Q7 4.2 Black,
2009 C6 RS6 Saloon Daytona Grey, 2001 Fully Loaded A2 Tdi, 2006 Avant S6 Black, 2007 VW Caravelle Exec Black (almost an Audi)
2009 TT Roadster Daytona, 2015 Q7 4.2 tdi lava grey, 2002 GmbH D2 demonstrator, 2006 D3 A8 LWB 4.2 Tdi Black
Most Recent Audis:
2001 A2 1.4 Tdi Black, 2007 4.2 FSi Q7 ABT Blue, 2016 S5 Coupe Launch model, 2004 S4 B6 Cabriolet, 2016 Q7 Sline White, 2006 Q7 4.2 FSi Black, 2012 Q7 Sline+ 4.2Tdi White
Everything Else
1989 Subaru Justy, 1986 Vauxhall Cartlton 2.0 GL, 1985 Vauxhall Carlton 2.2 CDi, 1987 Ford Sierra XR4x4, 1983 Vauxhall Senator, 1985 Vauxhall Senator 3.0i, 1997 Polo Saloon, 1997 Peugeot 306 1.9 TDi, Ford Sierra Sapphire 2000E, 1990 Subaru Justy, 2000 Subaru Impreza, 2000 Subaru Impreza RB5, 1993 Range Rover LSE, 2005 VW Bora, 2003 Skoda Superb, 2003 VW Passat V6 4 Motion, 1996 Peugeot 106, 2000 Range Rover 4.0, 2019 Tesla Model 3 Performance